Newsroom
---
Full closures on Highway 417 - Booth street bridge replacement
Highway 417 will be fully closed between Carling Avenue and Metcalfe Street from 8pm Thursday, August 11 to 6am Monday, August 15, 2022 to replace the Booth Street Rapid Bridge on Highway 417 / Ottawa Queensway.
Construction activities will be taking place in the following locations:
Highway 417 eastbound lanes - Carling Avenue to Kent Street
Highway 417 westbound lanes - O'Connor Street to Rochester Street
The following on-ramps will be closed:
Maitland Avenue eastbound on ramp
Carling Avenue eastbound on ramp
Parkdale Avenue eastbound on ramp
O'Connor Street westbound on-ramp
Bronson Avenue westbound on-ramp (already closed)
Lyon Street westbound on-ramp (already closed)
Rochester Street westbound on-ramp
Parkdale Avenue westbound on-ramp
---
Highway 49 Bay of Quinte Skyway Bridge Closure
There is a Full Night Mainline Closure of Highway 49 at the Bay of Quinte Skyway Bridge originally scheduled from 9:00 PM on Thursday August 11, 2022, to 6:00 AM on Friday August 12, 2022 is now cancelled due to poor weather conditions. The closure will be rescheduled to take place from 9:00 PM on Monday August 15, 2022 to 6:00AM on Tuesday August 16, 2022. This closure is intended for the implementation of staging configuration for Segment E work which will consist of installing temporary traffic signals, temporary concrete barriers, temporary energy attenuators, delineators and placing temporary pavement markings.

---
TOW ZONE PILOT ON SECTIONS OF GREATER TORONTO AREA HIGHWAYS
The Ministry of Transportation has launched a restricted towing zones pilot on sections of provincial highways
in the Greater Toronto Area
. If you need assistance in a
restricted towing zone:
Call 911 if it is an emergency or if you are in a travelled lane and cannot safely move your vehicle to a safe location
Call 511 if you are in a safe location and you need a tow (select the option for the Tow Zone Pilot)
Only call 511 if you are in a restricted towing zone on a provincial highway (see map below).
Visit
Ontario.ca/towzonepilot
for more information.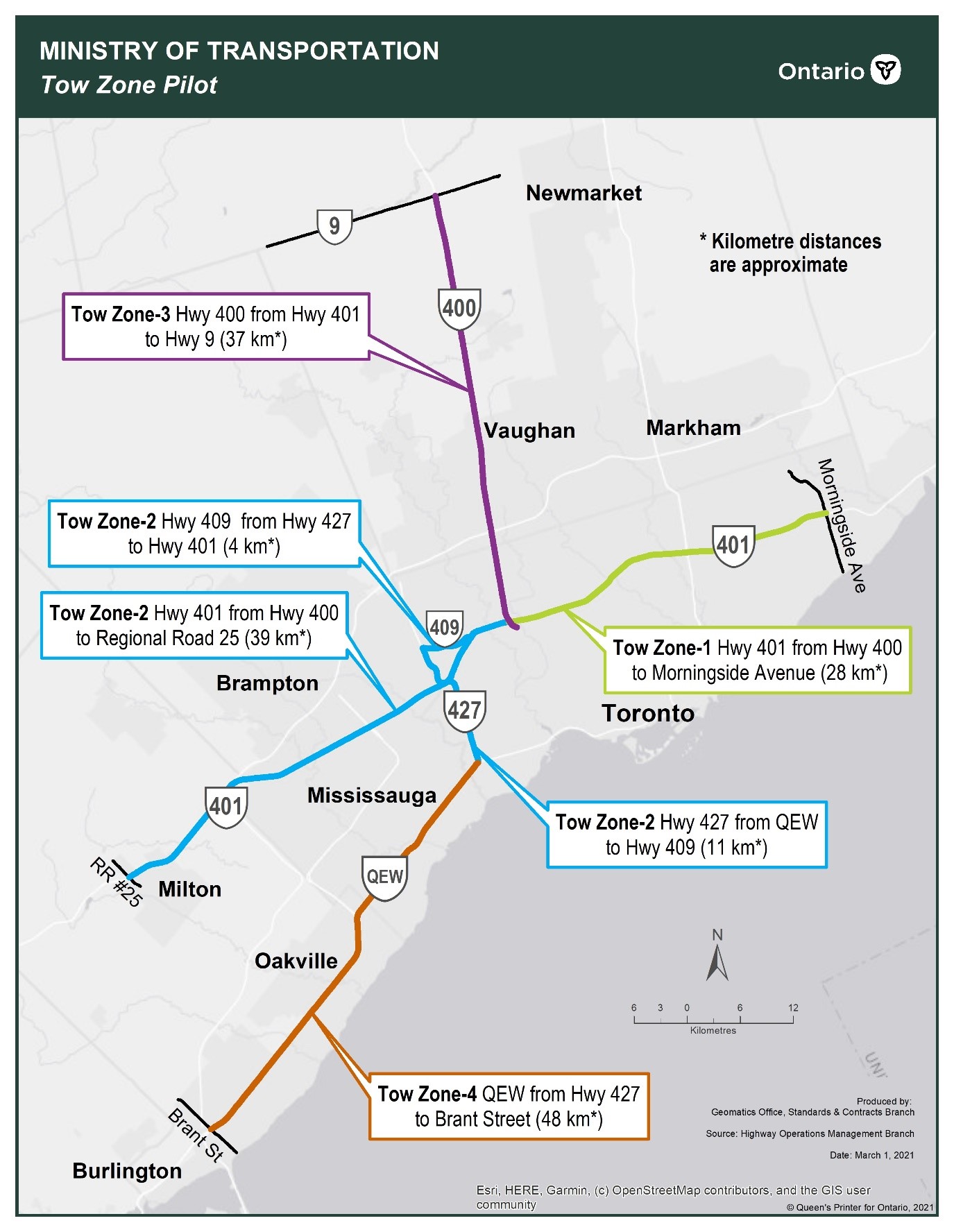 ---
ONTARIO 511 APP
The Ontario 511 app is now available to all drivers and includes additional features:

• Track my snow plow which will allow drivers to track the location of snow plows and salt trucks on provincial highways in Ontario
• Winter road condition information so drivers can see which roads are clear or covered in snow
• Weather warnings from Environment Canada to alert drivers of upcoming storms
• Up-to-date information on rest areas across the province

The app also provides footage from over 600 cameras and includes up-to-date traffic information on construction, collisions and road closures. The Ontario 511 app is available for free on the App Store and Google Play.

---