Newsroom
---
Highway 49 - Bay of Quinte Skyway Bridge
There is an Extended Full Closure of Highway 49 at the Bay of Quinte Skyway Bridge, originally scheduled from 6:00 am on Saturday, November 26, 2022 to 6:00 am on Monday,
November 28, 2022 is now cancelled due to reasons beyond Aecon's control.
The closure will be rescheduled to take place from 6:00 am on Saturday, December 3, 2022 until 6:00 am on Monday, December 5, 2022. In case of poor weather conditions, the closure may be rescheduled to take place from 6:00 am on Saturday, December 10, 2022 until 6:00 am on Monday, December 12, 2022.
This closure is intended for concrete placement of the closure strip to connect the new decks together prior to final paving.
Due to unpredictable temperatures and the high early strength concrete being used for this concrete placement, excessive vibrations need to be reduced until the concrete has reached the required strength for traffic to cross the bridge, which can take up to forty‐eight hours at this time of year.

During these time periods the highway will be closed, and no traffic will be permitted to pass over the bridge. Please refer to the following website for the Glenora Ferry as an alternative route:
http://www.mto.gov.on.ca/english/ontario‐511/ferries.shtml
.
VISIT Bay of Quinte Skyway Bridge Rehabilitation website:
https://hwy49quinteskyway.ca/
---
TOW ZONE PILOT ON SECTIONS OF GREATER TORONTO AREA HIGHWAYS
The Ministry of Transportation has launched a restricted towing zones pilot on sections of provincial highways
in the Greater Toronto Area
. If you need assistance in a
restricted towing zone:
Call 911 if it is an emergency or if you are in a travelled lane and cannot safely move your vehicle to a safe location
Call 511 if you are in a safe location and you need a tow (select the option for the Tow Zone Pilot)
Only call 511 if you are in a restricted towing zone on a provincial highway (see map below).
Visit
Ontario.ca/towzonepilot
for more information.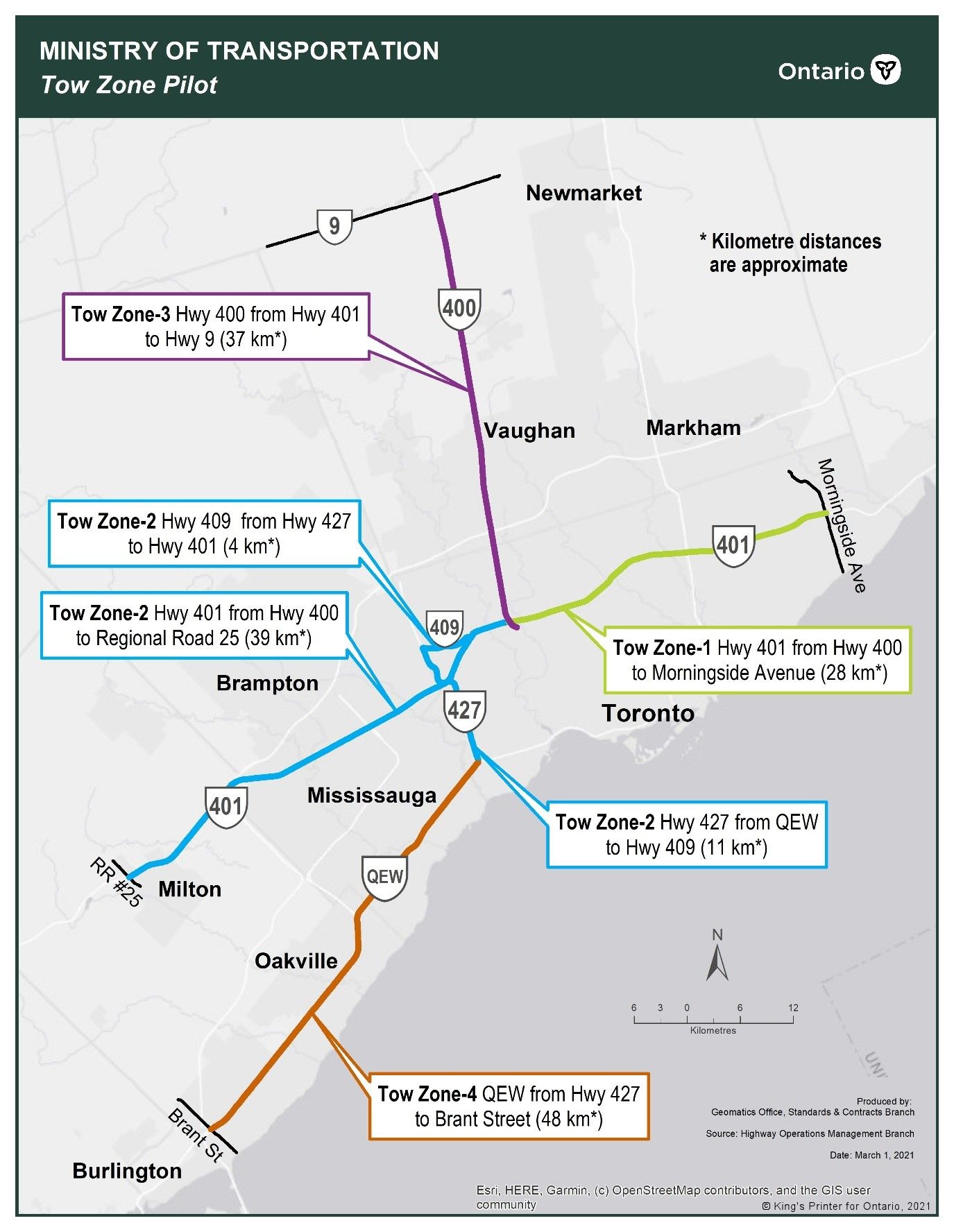 ONTARIO 511 APP
The Ontario 511 app is now available to all drivers and includes additional features:

• Track my snow plow which will allow drivers to track the location of snow plows and salt trucks on provincial highways in Ontario
• Winter road condition information so drivers can see which roads are clear or covered in snow
• Weather warnings from Environment Canada to alert drivers of upcoming storms
• Up-to-date information on rest areas across the province

The app also provides footage from over 600 cameras and includes up-to-date traffic information on construction, collisions and road closures. The Ontario 511 app is available for free on the App Store and Google Play.

---