Newsroom
---
Highway 148 at Pembroke Closure
Published on: August 22, 2019
Highway 148 (Pembroke) will be closed between Greenwood Road and Hazley Bay Drive starting Monday, August 26, 2019. The closure is planned to last for 3 weeks to facilitate structural replacement of the CPR Bridge. Detour via Hazley Bay Drive to Forest Park Road to Beachburg Road to Greenwood Road.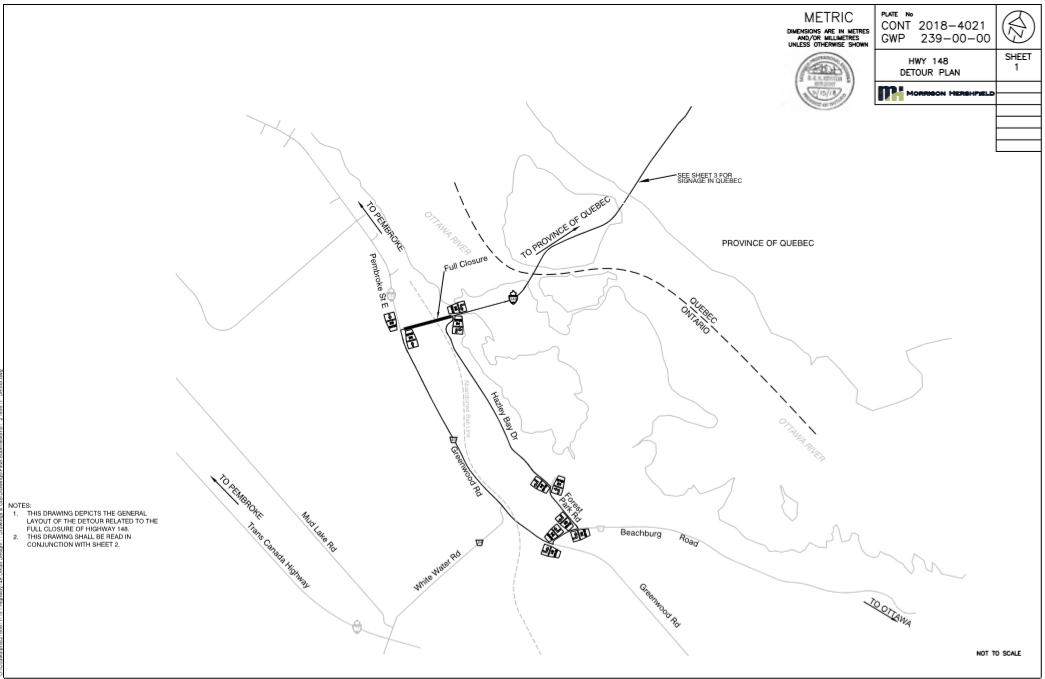 Highway 4 at Bayfield River Bridge Closure
Published on: August 20, 2019

Highway 4 at Bayfield River Bridge will be closed to traffic from Thursday, August 22, 2019 at 7:00 pm until Friday, August 23, 2019 at 9:00 am for the placement of two bridge structures.

A detour has been established to the west of Highway 4 along County Road 13 (Bayfield Road), County Road 31 (Parr Line) and County Road 3 (Mill Road) and is marked with detour signs.
Carling Ave On Ramp Closure
Published on: August 7, 2019
Carling Avenue on ramp to Highway 417 Eastbound (Ottawa) will be closed from Saturday, August 10 to Monday, September 30, 2019. The closure is required to facilitate the safety of workers and the public during the rehabilitation of Merivale Road Bridge and to construct a retaining wall at the on ramp.
Forest Fires
Updated on June 12, 2019
Information about the current forest fire danger, forest fire activity and fire restrictions across the province is available by visiting: https://www.ontario.ca/page/forest-fires
---
Highway 401 Ramp Closures in Chatham
Updated on: June 12, 2019
Beginning in the morning of Saturday, May 25, 2019 (weather permitting), Highway 401 eastbound on and off ramps at Bloomfield Road will be closed to traffic, with a targeted re-opening date of November 2019. There are advance closure signs in place on Highway 401 eastbound in advance of Queens Line interchange, advising of the closure.
Highway 401 Kinston East and West Construction
Updated on: June 12, 2019
Construction season is here! As always, the Ministry of Transportation wants to ensure your commutes and trips on
Highway 401
remain safe and efficient while road and bridge work is underway.
Approximately 20 separate projects between Port Hope and the Quebec border, which will require lane reductions and reduced speeds for extended periods are planned for this construction season.
These construction zones are identified in the maps shown below. Drivers are encouraged to reduce their speed and observe all posted signs in construction zones for their safety and the safety of construction workers.
Drivers can expect traffic delays at peak times and are encouraged to plan accordingly.
Those travelling east on Friday afternoons and west on Sunday afternoons can expect to encounter heavy traffic congestion with the potential of significant delays on Highway 401.
Drivers should be on the look-out for Bluetooth Delay Messaging signs. These signs detect Bluetooth signals from passing vehicles and use the information to calculate and display real time travel delay messages on Portable Variable Messaging Signs located along Highway 401. If there is an incident that causes a delay (i.e. construction lane closure, vehicle collision, congestion) the system detects the delay and automatically generates a corresponding delay message(s) upstream from the incident. Please watch for these signs when approaching construction zones and be prepared to stop when the signs indicate a queue is developing.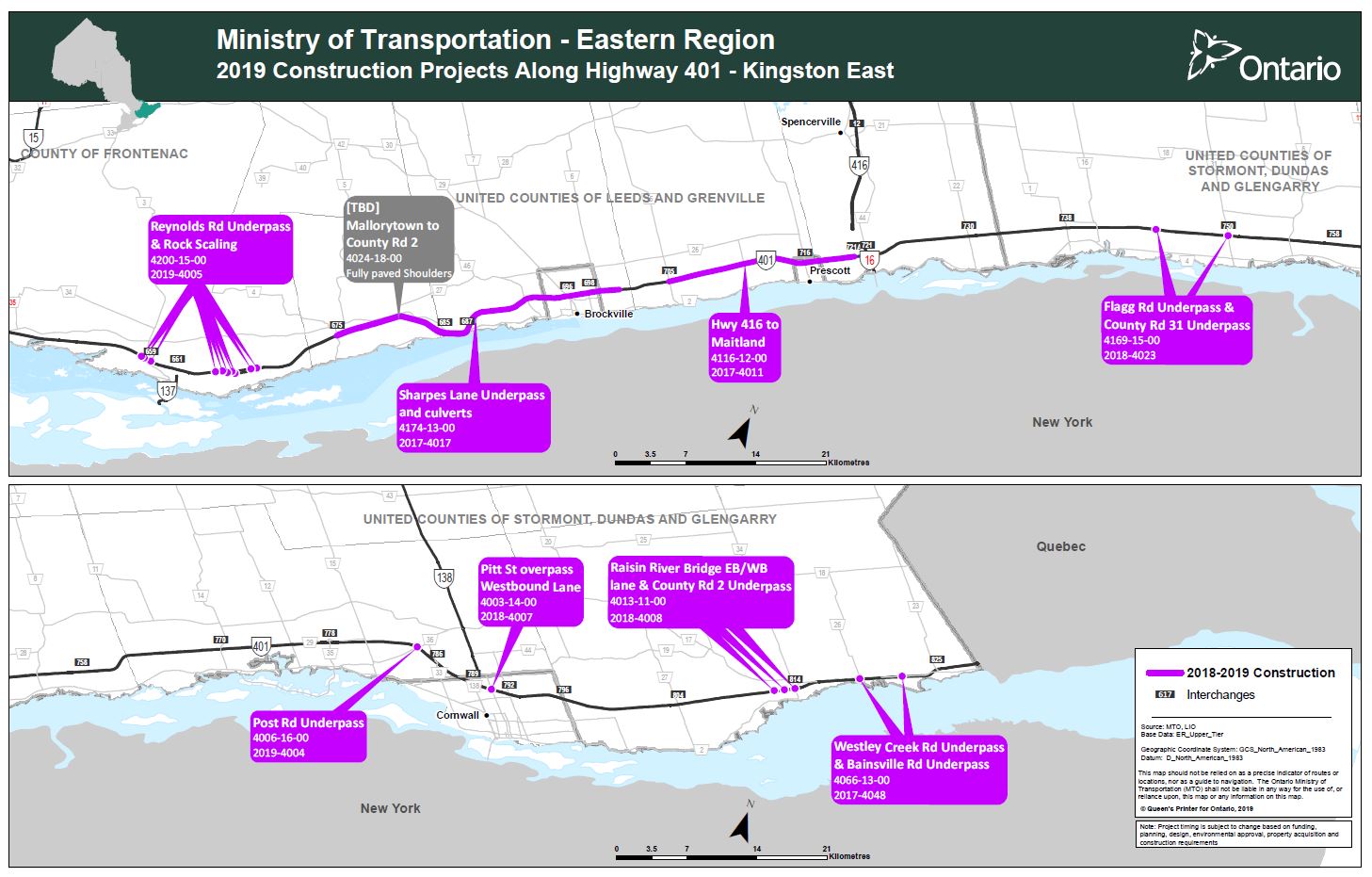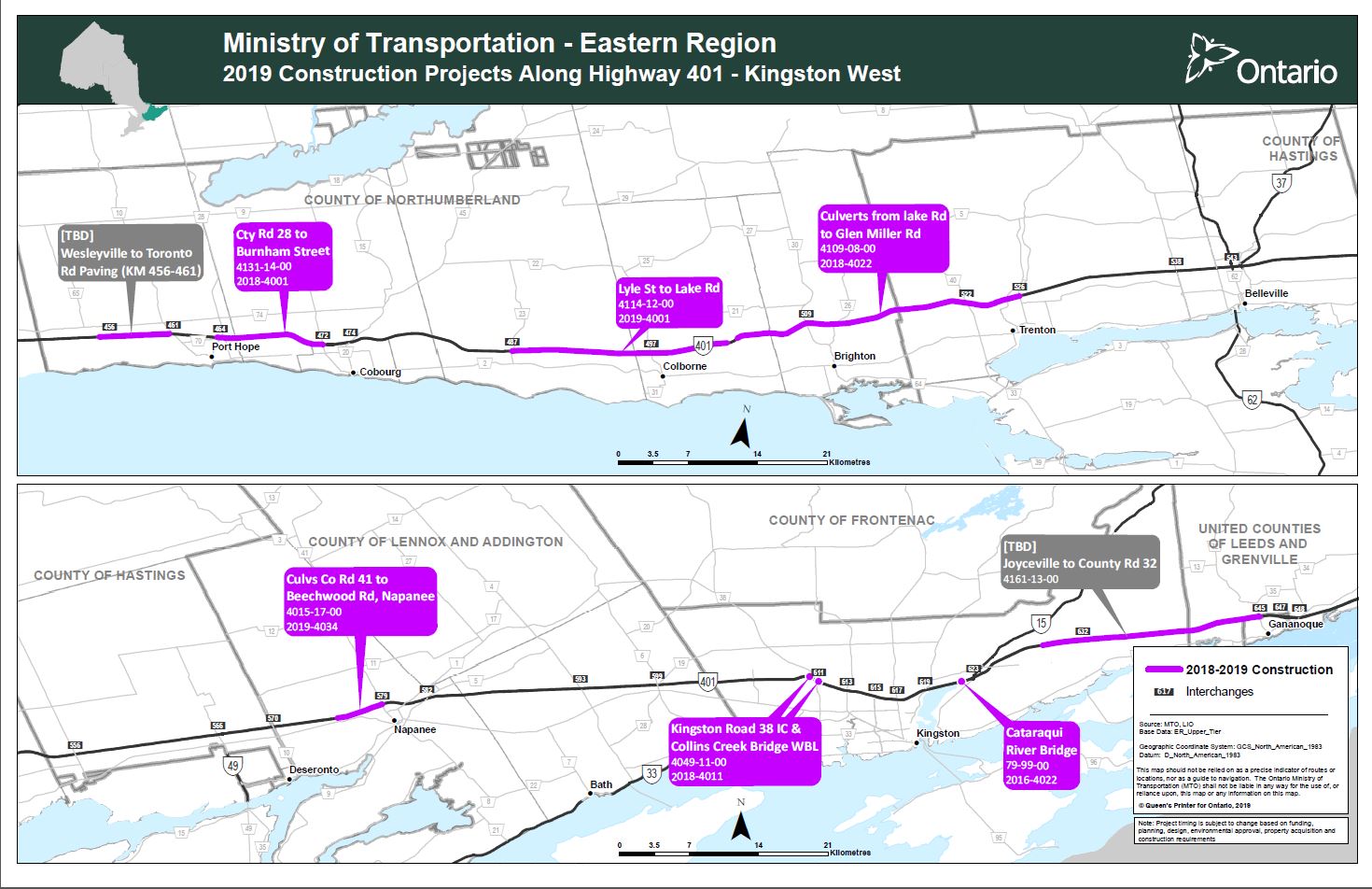 ---