Newsroom
---
The Ontario 511 team has released a new winter ready mobile app. The Ontario 511 app is now available to all drivers and includes these additional features;
Track My Plow which will allow drivers to track the location of snowplows and salt trucks on provincial highways in Ontario
Information on winter road conditions so drivers can see which roads are bare or covered with snow
Weather warnings from Environment Canada to alert drivers of upcoming storms
Up-to-date information on rest areas across the province
The app also provides images from over 600 cameras and includes up-to-date highway information on construction, collisions and road closures. The Ontario 511 app is available for free on the
App Store
and
Google Play
.
Permanent Closure York Regional Road 99
The Highway 427 Expansion project is entering the later stages of construction. One of the remaining segments of the Expansion to be built is the section of Highway 427 between Highway 7 and Zenway Boulevard. This road is currently legally known as York Regional Road 99. It will be decommissioned so that the Highway 427 new alignment can be built in its place. Once completed, this segment will complete the Expansion's extension section, which runs 6.6 kilometres from Highway 7 in the south to Major Mackenzie Drive in the north.
The closure will remain in effect for two months. In order to upgrade this section of road to freeway standards and seamlessly integrate it into the rest of the Expansion, York Regional Road 99 will permanently close to all traffic on August 8, 2020.
Starting August 8, 2020, all northbound traffic on Highway 427 will terminate at the Highway 7 interchange and all southbound traffic must access Highway 427 from the Highway 7 interchange. Upon the opening of the Highway 427 Expansion project there will not be an interchange at Zenway Boulevard.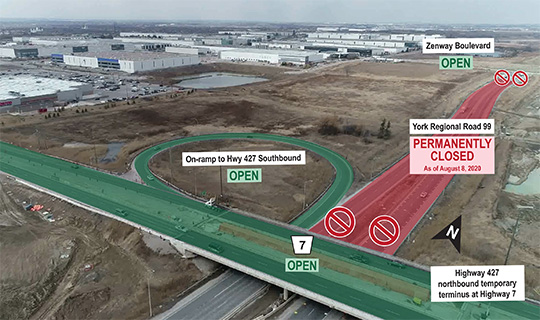 Traffic volumes on surrounding roadways (below) are expected to temporarily increase once York
Regional Road 99 is permanently closed, until the opening of the Highway 427 Expansion. Please
allow extra travel time and drive with caution on on the following impacted roadways:
Vaughan Valley Boulevard
New Huntington Road
Zenway Boulevard
Highway 7
Highway 27
Highway 50
If possible, please consider using alternative routes to avoid this area.
A signed detour route is being provided to guide motorists to/from Highway 427 and Zenway Blvd.