Newsroom
---
Closure of King Street ramp at Highway 401 interchange
The King Street ramp from Cambridge (Preston) to Highway 401 Westbound will be closed to traffic beginning at 11:00pm on Wednesday, April 28, and will reopen in Fall 2021. The exact date will be available in the summer as the contractor's schedule progresses.
This closure is needed to complete the rehabilitation of the Highway 401 King Street overpass structure.
Advanced signing will be in place. Motorists are advised to find an alternate route.
---
---
Highway 3 – Stoney Creek Bridge
Highway 3 eastbound and westbound will be closed from Sandusk Road to County Road 20 to complete bridge improvements. The full closure of Highway 3 will be from April 2021 to August 2021. A signed detour route has been implemented.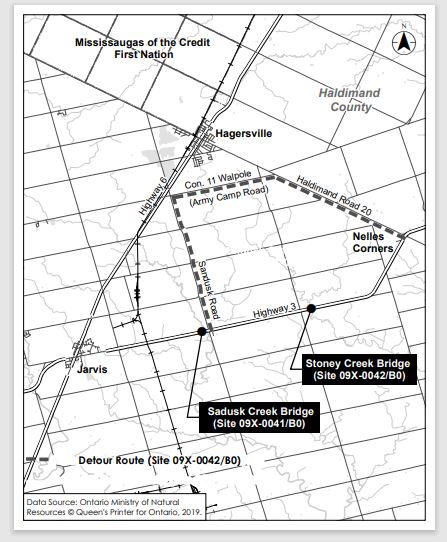 ---
Ontario 511 app
The Ontario 511 team has released a new winter ready mobile app. The Ontario 511 app is now available to all drivers and includes these additional features;
Track My Plow which will allow drivers to track the location of snowplows and salt trucks on provincial highways in Ontario
Information on winter road conditions so drivers can see which roads are bare or covered with snow
Weather warnings from Environment Canada to alert drivers of upcoming storms
Up-to-date information on rest areas across the province
The app also provides images from over 600 cameras and includes up-to-date highway information on construction, collisions and road closures. The Ontario 511 app is available for free on the
App Store
and
Google Play
.
PERMANENT CLOSURE YORK REGIONAL ROAD 99
York Regional Road 99 has been decommissioned and permanently closed to traffic on August 8
th
, 2020.