Newsroom
---
Carling Ramp Closure
Updated: July 17, 2018
Please note that as of Monday June 18, 2018, the Highway 417 eastbound off-ramp to Carling Avenue eastbound will be closed for construction until approximately July 26. Motorists should follow the detour to Maitland Avenue and to Carling Avenue Eastbound from there.
---
Highway 417 Closure
Section of Highway 417 fully closed for bridge demolition overnight on the weekend of July 28 and 29
Published: July 13, 2018

A section of Highway 417 will be fully closed in both directions on Saturday, July 28 until Sunday, July 29. Significant traffic impacts are expected from 5 pm on July 28 to 11 am on July 29. This closure is required for the demolition of the Harmer Avenue Pedestrian Bridge.

Highway 417 will be closed in both directions from Bronson Avenue to Carling Avenue. During the work, the following eastbound on-ramps will be closed: Carling, Parkdale and Maitland. The following westbound on-ramps will be closed: Catherine, Rochester, Parkdale, Lyon and O'Connor.

The following detours will be in effect during the closure:

Westbound detour
Westbound motorists must exit the highway at Bronson Avenue onto Catherine Street
Proceed via Catherine Street, which becomes Raymond Street, westbound to Booth Street
Proceed via Booth Street southbound to Carling Avenue
Proceed via Carling Avenue westbound to the westbound Highway 417 on-ramp at Kirkwood Avenue (west of the fire station)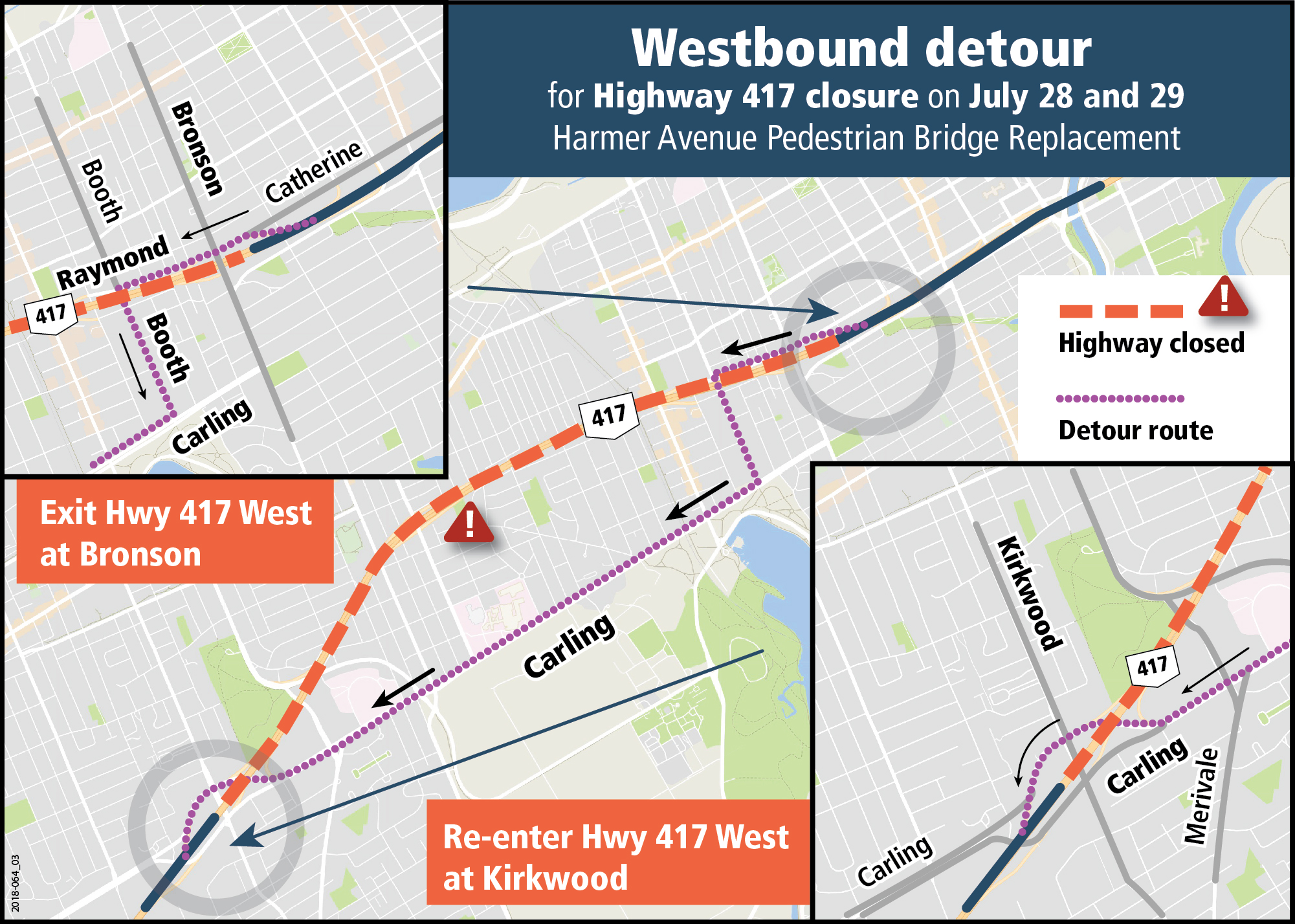 Eastbound detour
Eastbound motorists must exit the highway at Carling Avenue and continue east to Bronson Avenue
Proceed via Bronson Avenue northbound to Chamberlain Avenue
Proceed via Chamberlain Avenue eastbound to Isabella Street
Proceed via Isabella Street eastbound onto the eastbound Highway 417 on-ramp at Metcalfe Street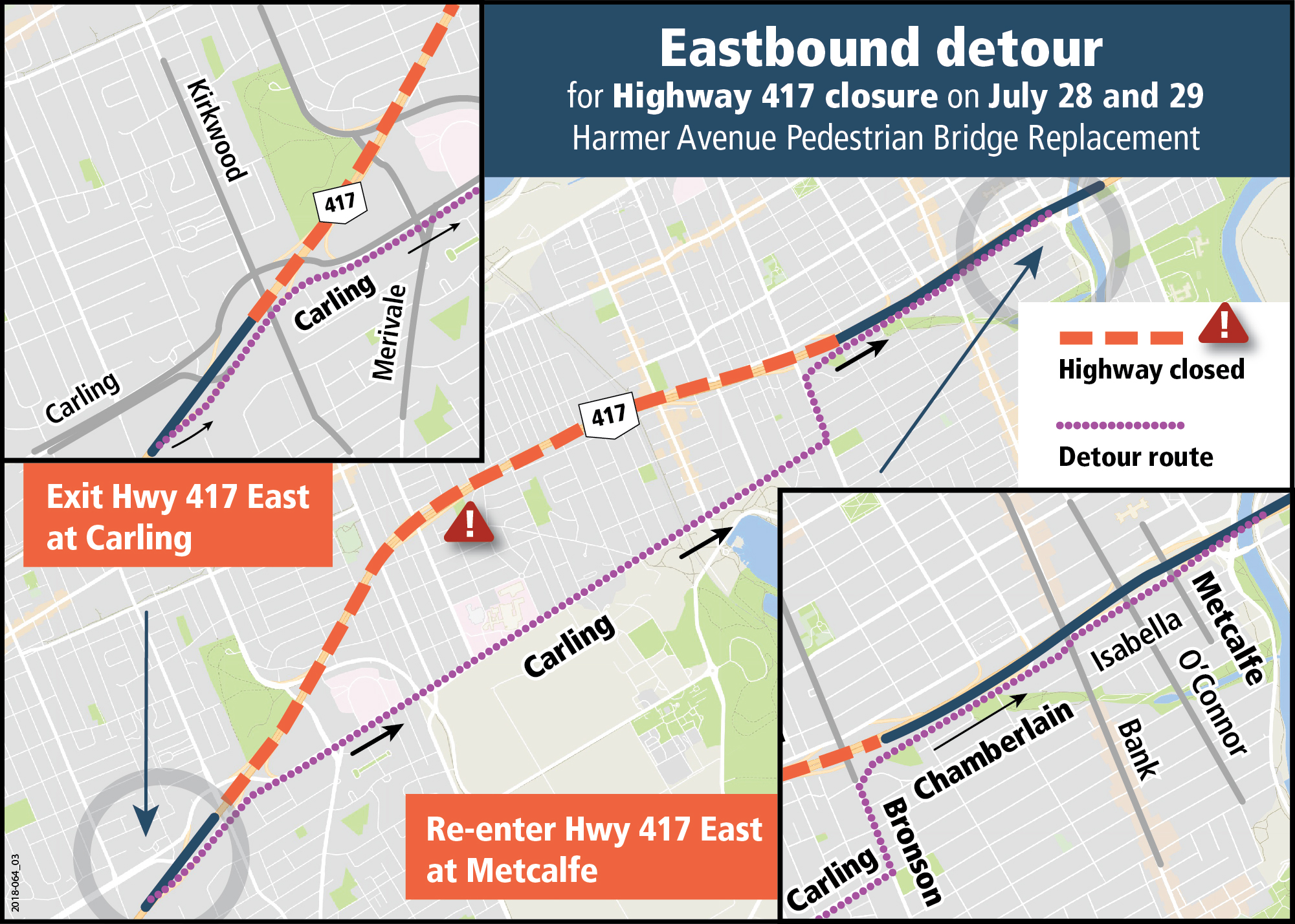 The public is advised to plan all trips well in advance as significant delays are expected during the closure. There are many other transportation options including OC Transpo, carpooling and other alternative forms of transportation to get around the city while this closure is in place.

For more information on City programs and services, visit ottawa.ca or call 3-1-1 (TTY: 613-580-2401). You can also connect with us through Facebook, Twitter and Instagram.
---
Notice of Temporary Highway Work
HIGHWAY 61 BETWEEN BROADWAY AVENUE AND NEEBING AVENUE/PRINCESS STREET
THUNDER BAY — The Ministry of Transportation wishes to advise that Highway 61 between Broadway Avenue and Neebing Avenue/Princess Street, will be closed nightly to traffic starting on Monday, June 4, 2018 between the hours of 10:00 pm and 6:30 am. The nightly closure will continue until November 2018. A marked detour will be provided from Highway 61 Neebing Avenue to Broadway Avenue and back to Highway 61 in both directions.
The highway closures are necessary to ensure the safety of road users and workers while construction work is underway on Rosslyn Road Overhead, CPR Overhead and CNR Subway structures on Highway 61.
We apologize for the inconvenience and urge motorists to schedule their travel to minimize any delays. Motorists are reminded to obey and follow all traffic signage and flag persons for the safety of both workers and drivers.
---
Construction Projects - Eastern Region
This construction season, there are 20 construction projects occurring between Port Hope and the Quebec Border on Highway 401. Friday afternoons going eastbound and Sunday afternoons going westbound may have heavy traffic congestions. There will be four planned closures east of Kingston, in the United Counties of Stormont, Dundas and Glengarry: at 3rd Line Road (Bainsville) and Wales Drive in each direction. Please plan your trips accordingly this summer and always.